In the afternoon of April 2, 2006, thunders and lightening rumbled across Ho Chi Minh City's sky to signal the arrival of a new rainy season.
A heavy downpour accompanied by strong wind lasted nearly an hour, causing flood in some streets in Ho Chi Minh City. Many trees were broken down; luckily, no human injury was reported.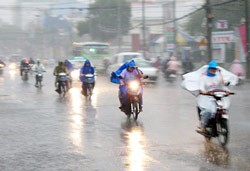 Heavy rain and thunders appear so suddenly that people have to turn on their lights to avoid accidents.
Earlier, from March 30 to April 1, rain appeared in the eastern south and the provinces along the western sea in the Mekong Delta.
According to the Southern Hydrometeorology Forecast Bureau, it is not out-of-season rain, but the first rain for the transition between the dry season and the rainy season, especially in the north of eastern south and coastal areas of the western sea.
It also rained on April 1 in Kon Tum Province in the Central Highlands. Rain has caused a drop in the temperature, which was over 34 degrees Celsius in Ho Chi Minh City on April 2 and 3. However, rather high moisture with hot and muggy weather caused frustration.
The office said that those signs showed that this year's rainy season has come earlier than usual; but it is not too early when compared with the seasonal-change rain appeared from March in 1999.