The cold front further plunged temperatures in the northern region on Wednesday, paralyzing life for people here suffering the prolonged bitter cold weather.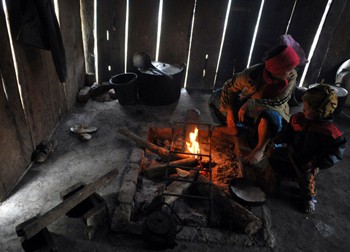 Severe cold conditions will prevail in the northern region for the next several days (Photo: VnExpress)
Mercury fell to 1 degree Celsius on Mau Son Mountain of Lang Son Province, 6 degrees in Sa Pa District of Lao Cai Province and 9 degrees in Cao Bang and Ha Giang Provinces.
Hanoi temperatures slid to 9-10 degrees at night time, with the northern and parts of the central regions already suffering bitter cold weather.
Luu Minh Hai, deputy director of the hydro meteorological centre in Lao Cai Province said temperatures would continue to drop in the northwestern region for the next couple of days. Frost might follow showers when mercury dips to 0 degrees.
Northern central provinces including Nghe An and Thanh Hoa have also been affected by the cold front, said Le Thanh Hai, deputy director of the National Hydro Meteorological Forecasting Centre.
This cold spell will linger for at least one week, when more cold spells are forecast to roll into northern Vietnam from now until the Tet holiday season.
Severe cold weather and scattered showers since Monday have hospitalized many children and elders.
Dr. Tran Minh Dien, deputy director of the National Hospital for Pediatrics said that the number of children coming in for health checks and treatment rocketed over 1,500, an increase of 300 children over normal days.
Icy cold showers have led several nursery schools in Hanoi to shut down while prices of vegetables and meat have risen exorbitantly.