The National Hydro Meteorological Forecasting Center has issued a warning on Typhoon Tembin which is brewing near the East Sea.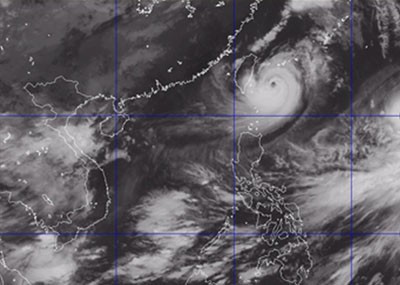 Satellite photo showing movement of Typhoon Tembin that was located near the East Sea on August 23 (Photo: national weather bureau)
At 7am today, August 23, the storm was located 250 kilometers east southeast of Taiwan (China). Wind gales near the eye of the storm were at level 12-13 and moving at 118-149 kilometers an hour.
Within the next 24 hours, the storm will move west and northwest at 5-10 kilometers an hour to locate southeast of Taiwan. Wind gales will touch level 13 at speeds of 134-149 kilometers an hour.
According to meteorologists, Tembin is likely to reduce in strength before moving into Taiwan waters, but another powerful typhoon named Bolaven is moving towards Tembin to cross paths, and expected to create more turbulence.
At present, Bolaven is located about 19 degrees north latitude and 137 degrees east longitude and is being forecast as a highly strong storm.

Tembin will affect the northeast part of the East Sea by tonight, making it very rough. The national weather bureau has warned the southern provinces to watch out for this storm as because of it the southwesterly winds are gaining in strength.
In related news, non-stop heavy rainfall in Ho Chi Minh City last night caused flooding of upto 30-40cms in several streets in Binh Thanh and Thu Duc Districts.
The worst affected areas were Highway 13 in Binh Thanh District and Kha Van Can Street in Thu Duc District, where a number of vehicles suffered engine failure.