Temperatures rose slightly in Hanoi to 10.5-13 degrees Celsius even though the northern region continued to reel under a severe cold wave.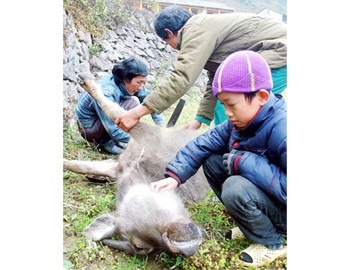 Several cattle have died in the last few days due to the bitter cold in the northern mountainous region (Photo: SGGP)
With weather showing some respite, some nursery and primary schools have opened once again.
Ice and snow has begun to melt on Mau Son Mountain as the mercury jumped from 0 to 4.7 degrees. Sa Pa District in Lao Cai Province saw temperatures increase slightly, from 1.5 to 1.9 degrees Celsius.
A number of cattle in Lang Son, Ha Giang and Bac Kan Provinces have died from the cold within the last few days.

According to Nguyen Dinh Trong, deputy director of the Department of Agriculture and Rural Development in Bac Kan Province, at least 14 cattle have died so far.
Local authorities have sent officials to guide residents on ways to protect their cattle herds from the chilly weather and give them financial assistance to buy cattle feed if cold conditions prolong.
 
Meanwhile, several schools in the mountainous provinces of Son La, Lao Cai, Yen Bai, Ha Giang and Lang Son remained closed as it is still too cold.
The Department of Education and Training in Yen Bai Province said that the mercury remained low at 4-6 degrees on Friday, thus nearly 6,000 students from Tram Tau and Van Chan Districts had to stay at home.
The cold spell is expected to linger in the northern and central regions for the next two to three days, when it may warm up just a bit before another cold front moves in by January 11 and 12, according to the national weather bureau.