According to the Management Board of Ba Vi National Park, a significant thickness of glaze ice from snowfall causing a sharp drop in temperature below zero degree Celsius shouldered over Tan Vien mountain region of Hanoi on January 24.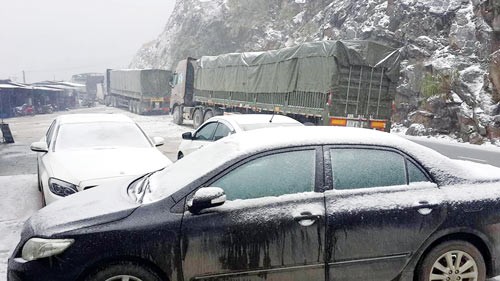 Snow is frozen over cars.
The thickness of snow was measured at 2- 3 cm hitting the mountain top of Yen Tu and Binh Lieu mountain district of Quang Ninh, even up to 5- 6cm in some places.
 
Hundreds of domestic and foreign travelers have flocked to Mau Son mountain district to see the snow  previous for several days causing traffic obstruction in the area.
 
Earlier, snowfall occurred in Sa Pa, Lao Cai, Hoang Lien Son National Park, the section from Khau Pha mountain passing to Mu Cang Chai of Yen Bai, National Highway No. 32 on January 23.
 
Both the National Hydrology Forecast Center and the Hydrology Meteorology Forecast Center of Pacific Asia region announced: "The temperature in Sa Pa reduced rapidly at minus 2 degrees Celsius. Meanwhile, the daytime temperature at Mau Son tourism area in Lang Son was measured at minus 4 degrees Celsius. The daytime temperature in Tam Dao (Vinh Phuc) and Dong Van (Ha Giang) dropped to only minus 0, 2 degree Celsius; at minus 0, 8 degree Celsius and minus 0, 6 degree Celsius respectively in Trung Khanh (Cao Bang) and Moc Chau (Son La). The highest daytime temperature in Hanoi was at 6, 5 degrees Celsius".
 

Snowfall causes difficult driving condition for all vehicles.
Local hospitals in Lao Cai, Lai Chau, Cao Bang and Lang Son have received a large number of adults and children getting sickness because of the influence of cold weather.
 
By evening yesterday, Deputy Director of the Central Hydrology Meteorology Forecast Center Le Thanh Hai said: "The prolonged cold front is due to the influence of the weather phenomenon El Nino. The appearance of freezing rain was due to reducing the temperature and stagnant water over plants".
 
The freezing and snowfall is predicted to last until January 27. At the end of this month, the strongest cold air will weaken into damaged cold affecting to the northern midland and delta region.
 
Dealing with the harmful cold in the northern region, Minister of Education and Training required schools nationwide to close if needed and take care of children health.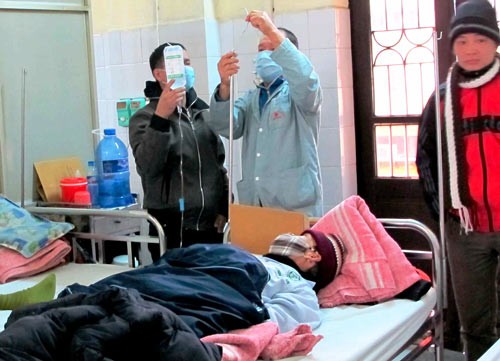 Adults and children getting sickness because of the influence of cold weather.