At 7am, the temperature was measured at 12.1 degrees Celsius in Lao Cai city, 10.9 degrees Celsius in Pho Rang (Bao Yen), 5.5 degrees Celsius in the mountainous area of Bac Ha and at 3.3 degrees Celsius in Sa Pa.
Snowfall covered in the mountainous peak of Fansipan, attracting the huge number of visitors to Sa Pa town in Lao Cai to see and make a snapshot of the snowfall.
By tonight and early tomorrow, hoarfrost without snowfall is expected to hit the Fansipan peak.
The Department of Agriculture and Rural Development of Lao Cai province said that the current extreme cold weather has killed 76 buffaloes, cows and cattle with total damage of nearly VND 1 billion.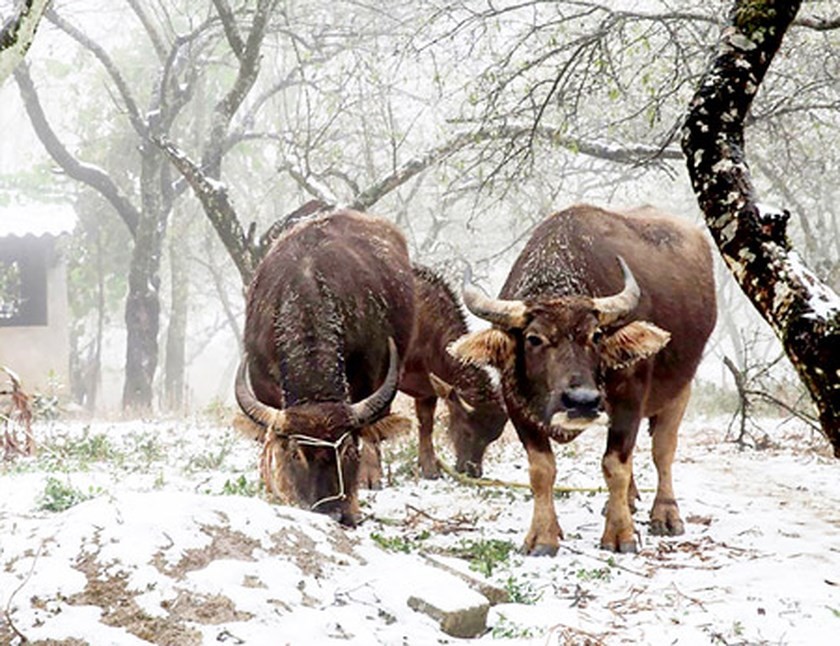 Buffaloes face to the extremely cold weather.

According to the Hydrology Meteorology Forecast Center of Lao Cai province, the dangerous cold air is expected to continue covering over the locality next days.
The National Hydrology Meteorology Forecast Center said that the cold atmosphere shouldered over cities and provinces across the country this early morning.
The northern region experienced damaging cold while the country's highest peak saw hoarfrost with the temperature of under five degrees Celsius.
As the related news on typhoon Kai-tak, the tropical storm was located at around 220 kilometers of the east- southeastward of the Southwest Cay Island (the Spratly Islands) with the maximum wind near the center of 60- 75 kilometers an hour.
By 4am tomorrow, its eye will be centered at 110 kilometers of the eastward of the Spratly Islands with a speed of 60- 75 kilometers an hour.
Because of its influence, both the eastern territorial waters of the mid and south- East Sea including the eastern territorial water of the Spratly islands will see rain, powerful wind of level 6-10 and sea rough.
The dangerous zone is parallel at 6.5- 12.0 degrees north latitude and 111.0 degrees east longitude.
In next 24- 48 hours, Kai-tak will continue moving the west- southwest with its speed of 15 kilometers an hour, and it is expected to be developed stronger than that later on.
By the morning Thursday, it will be at around 240 kilometers of the southwestward of the Spratly Islands.