The national weather bureau has reported that the 'Songda' typhoon, forming east of the Philippines, has been moving towards the East Sea.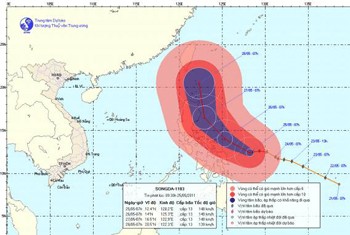 The national weather bureau chart showing the direction of 'Songda' typhoon
By 7am this morning, the storm was centered 12.4 degrees north latitude and 128.2 degrees east longitude, east of the Philippines.
The storm wind gales of level 12-13, have been moving at 118-149 kilometers an hour according to the National Hydro Meteorological Forecasting Center.
Within the next 24 hours, the typhoon will mainly move westward at 15 kilometers an hour.
The southern part of the East Sea, including the waters from Binh Thuan to Ca Mau province have experienced heavy rains and strong winds as a result of the progressive strong winds caused by the typhoon.
In northern Vietnam, the Lao Cai Province Hydro Meteorological Center reported the presence of a cold front that had caused whirlwinds and hailstorms in Muong Khuong District, damaging 27 homes and 86 hectares of corn cultivation.
Heavy rain also occurred in some other places including Lao Cai town and Bac Ha District with rainfall measuring up to 50-79mm.