Southern provinces are approaching the height of the hot spell in 2006. The temperature tends to increase steadily until April, according to the Southern Hydrometeorology Station.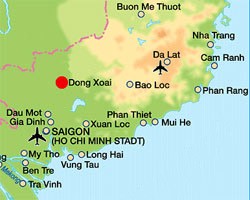 Temperature in Dong Xoai District was up to 38.4oC on March 19, 2006 (Photo: www.welt-atlas.de)
The temperature in Ho Chi Minh City has been hovering above 37oC during the past two days with scorching sun and few cloud at mid-day. Particularly, Dong Xoai District suffered heat as high as 38.4oC on March 19 and 37.2oC on March 21, 2006.

Other places in the Eastern South such as Phuoc Long, Xuan Loc, … also witness temperature of 36oC or over. Provinces in the Mekong Delta are not so hot with temperature of about 34oC thank to the local rivers and streams.

As forecasted, there will be a light cold spell in the north and possible rain inn the Central.