A hot low pressure zone from the west is set to move in the southeast region, causing a hot spell during the Reunification Day (April 30) and May Day holidays in the area, the National Hydro Meteorological Forecast Center has said.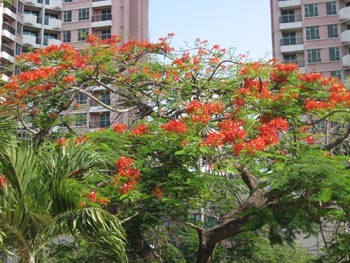 The southern weather is forecast to be hot during the coming weekend holidays (Photo: HM)
Highest temperatures would hover around 34-38 Celsius degrees in the southeastern and southwestern regions.
In the northern region, meanwhile, the slight cold weather would be fine for people to enjoy the holidays, the center deputy director Le Thanh Hai said.
From April 29 to May 3, Hanoi temperatures would be easy with 30-32 Celsius degrees at day and 20-22  degrees at night. Some places in the city would even see showers.
In the northern mountainous region, it looks to be worse.
Several tourist destinations including Tam Dao, Sa Pa and Bac Ha would experience showers and thunderstorms, with lowest temperatures being 17-20 degrees at night. It would be higher at day with 24-27 degrees.
Central coastal region between Da Nang City and Binh Thuan Province would also see an ideal weather for the holidays.
It would not too hot and slight showers might roll in at late afternoons and evenings. Highest temperatures on the area would hit 33-35 degrees at day and 24-26 degrees at night.
In the Central Highlands, Buon Ma Thuot and Da Lat cities' weather would be pleasant with showers in at late afternoons.
At nights, Da Lat will be cold with lowest temperatures hovering around just 14-16 degrees.
In related news, a huge waterspout occurred during a thunderstorm on the water off Rach Gia town in Kien Giang Province on April 27.
The ten-minute long waterspout, seven kilometers from the Rach Gia Harbor, was hundreds of meters high.
According to Kien Giang Province's Hydro Meteorological Center, the waterspout usually takes place on the water off Kien Giang on the beginning of rainy seasons.