The National Hydrology Meteorology Forecast Center reported that rains accompanied with thunderstorms have appeared in the areas of the Central Highlands and the southern region during past two days.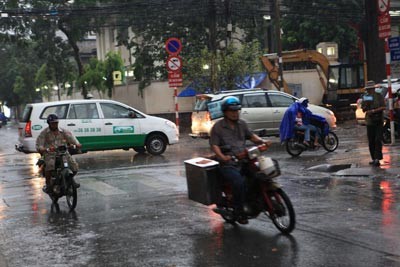 Both Central Highlands and southern region enter rainy season. (Photo:SGGP)
Total rainfall sweeping through the Central Highlands provinces reached at 30- 80 mm in early May meanwhile at 40- 60 mm in the southern region and at 10- 30mm in the west southern region.
The upcoming rains are forecast to occur in the southern provinces from May 19- 22. By May 23- 25, west south monsoon will operate stronger causing medium- heavy rains in the Central Highlands and southern provinces on the large scale.
However, the center also warned that the Gulf of Thailand, territorial water from Ca Mau to Kien Giang including Phu Quoc and Tho Chu islands and Spratly Island of Vietnam will suffer bad weather and west south wind of level 4- 5, even gust up to level 6-7 by May 22- 25.
The rains bring comfortable and cooler air to the country however, strong wind and heavy rains could cause damage for travelling vessels on sea.
According to vice head of the southern region's hydrology meteorology forecast center Le Dinh Quyet, Vietnam will enter rainy season by the end of May or early June and temperature will drop quickly. The highest temperature in the eastern area and Ho Chi Minh City will be at 35- 37 degrees Celsius, and at 34-36 degrees Celsius in western area.