Director of the National Center for Hydro-Meteorology Forecasting (NCHMF) Hoang Duc Cuong said heavy rains will continue occuring in the central provinces from Quang Nam to Ninh Thuan and the rainfall level will be from 100 to 150 mm while floods have been happening in the central provinces since December 16.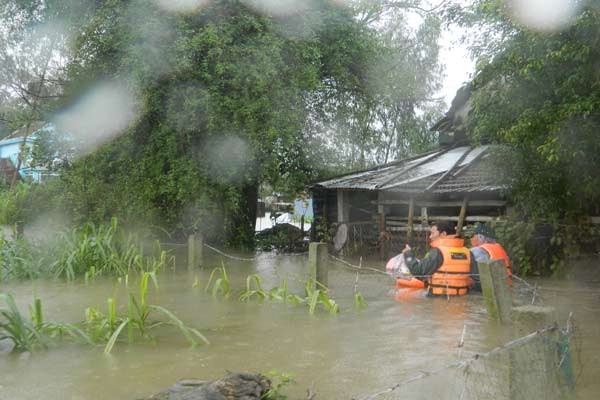 flooding hits central provinces
Worse, from December 23 to 24, low pressure will appear in the East of the Philippines and then heading toward the East Sea, causing flooding in the southern central provinces.
It is estimated that the rainfall level will reach at 200 to 300mm and the region from Quang Tri to Khanh Hoa will be suffered by new floods. However, floods are forecast not to last, added Cuong.
The NCHMF also said for over last month, 9 central provinces were suffered by torrential rain and floods due to tropical low pressure and cold front mostly.
Mr. Tran Quang Hoai, the Central Steering Committee for Natural Disaster said, since October to December, torrential rain and floods have killed 111 people, 121 injured and over 300 houses collasped; nearly 43,000 ha of rice were inundated with water. The damages estimated to reach over VND 8,5trillion in 9 central provinces.
Mr. Hoai said that total damages by heavy rain and floods nationwide since the beginning of this year to date have reached VND 37,650 billion equal to US$ 1.7billion.