According to the Southern region's Hydrology Meteorology Forecast Center, tropical low pressure is going to respectively appear in the northeastern territorial water of East Sea on August 14- 20, even it is forecast able to develop into new typhoons.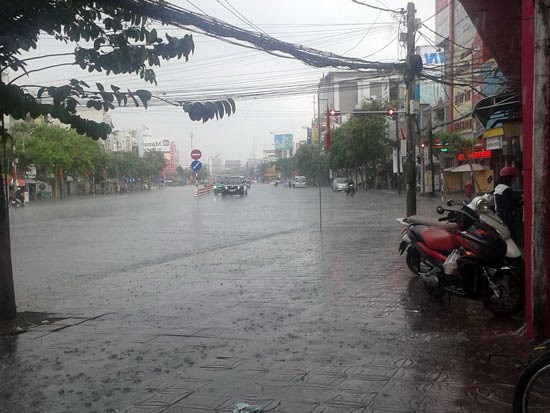 The southern may be hit by rain and thunderstorms
Due to the influence of the powerful operation of southwest monsoon, the southern region's weather situation will suffer medium- heavy rains, thunderstorms and lightings on the large scale, with total rainfall of 100- 200mm.
The coastal provinces from Ba Ria- Vung Tau to Ca Mau will experience showery weather, thunderstorms, southwest monsoon of level 7- 8 and sea rough.
Currently, upstream water level on Nine Dragon River reduces at 0, 35- 0, 65 meter in comparison with the same period last year while downstream water level on Sai Gon River is higher at 0, 15 meter than previous years.
During this week, the daytime temperature in Ho Chi Minh City is predicted to reach at 24- 32 degrees Celsius. Medium- heavy rains will cover the place.
The National Hydrology Meteorology Forecast Center also reported that new tropical low pressure zone will enter Gulf of Tonkin, causing powerful wind of level 8- 10 and heavy rains in the coastal northern region, Gulf of Tonkin, northern and northern central region.
A flood is going to appear on the Red and Thai Binh River in next two or three days.