Director of the National Hydrology Meteorology Forecast Center Mr. Hoang Duc Cuong said that this year's the 16th tropical storm hitting the East Sea was located at 120 kilometers of the eastward of the Spratly Islands with a maximum wind of level 12-15 and big waves of 10 meters.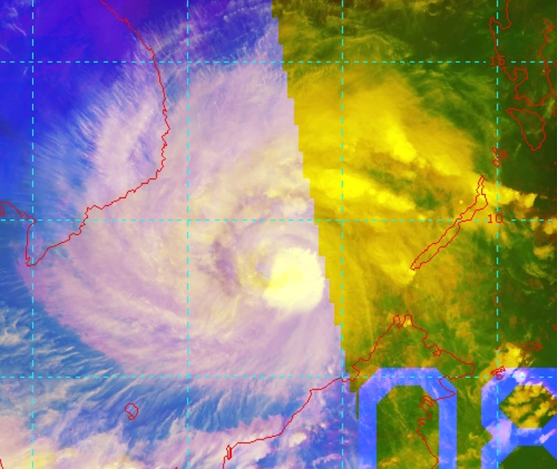 Maximum wind near the center gusts level 11- 14
This evening, Tembin is warned to directly affect to the coastal provinces from Ba Ria- Vung Tau to Ca Mau, and then it is going to enter the mainland provinces pf Ca Mau and Kien Giang with powerful wind of level 8- 13.
The storm circulation in combination with the current cold air mass will cause high rainfall of 300- 400 mm, flashflood and landslide, added Mr. Cuong.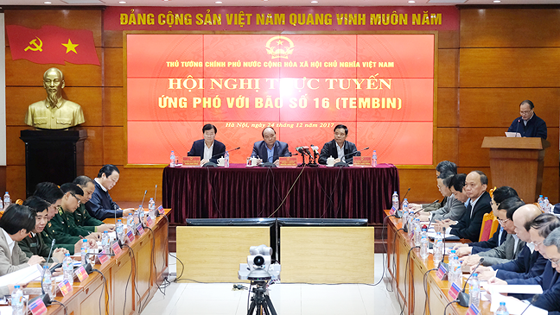 Vietnamese Prime Minister Nguyen Xuan Phuc chairs an online meeting with the southern provinces to discuss about urgent measures dealing with the natural disaster.

According to Tran Quang Hoai, Head of the General Department of Natural Disaster Prevention and Control judged that Tembin is a super storm with its rapid speed making landfall in the country at the end of the year.
He suggested the Ministry of Agriculture and Rural Development directs network operator companies to send messages as well as warning information to their telephone subscribers in the typhoon- hit localities.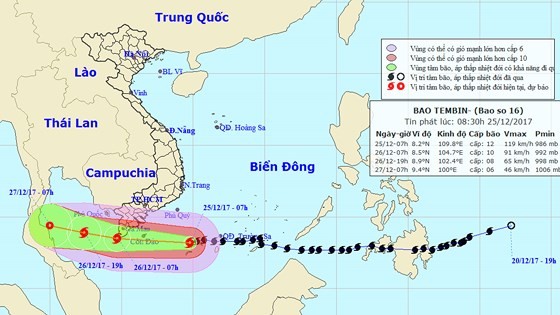 Position of Tembin in sea
The Head of the General Department of Natural Disaster Prevention and Control also directed the 9th Military Region of Vietnam People's Army to send helicopters searching along the coastal region, islands and rivers of Ca Mau, Bac Lieu and Kien Giang to call fishing vessels in sea to move safer places.
PM Nguyen Xuan Phuc asked the localities needed to carry out urgent measures in taking local people out of the dangerous zone, forbid fishing boats to go close to the sea and ensure safety of drilling rig.
In addition, PM Nguyen Xuan Phuc required relevant department, agencies and localities of Ba Ria- Vung Tau, Bac Lieu, Kien Giang, Ca Mau, Ben Tre and Ho Chi Minh City to stop unnecessary meetings to focus on measures dealing with Tembin.
In order to ensure life's safety, PM Nguyen Xuan Phuc required the localities to allow pupils and students absent from their school on December 25, 26.
Earlier, the Ministry of Health sent an urgent message to health departments of the coastal provinces and cities from Quang Ngai to Kien Giang, the south- central and the west- southern region to ask the functional agencies in mobilizing human resources and preparing medical supplies, equipment and chemical for coping with the worst situation.