The Central Steering Committee for Flood and Storm Control September 23 warned of high tide flood waters rising in various southern regions in September and for affected localities to take urgent preventive measures.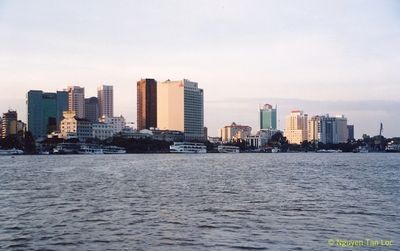 The Sai Gon-Dong Nai River system forecast to rise by 1.38 meters after September 26, 2011
The South Regional Hydro Meteorological Centre said the Sai Gon-Dong Nai River is expected to rise by 1.38 meter after September 26.
In addition, the Srok Phu Mieng hydro-electric power plant in the southern province of Binh Phuoc has started discharging water at the rate of 84 cubic meters per second from September 23.
All efforts are being made by the Steering Committee for Flood and Storm Control to reduce loss of lives and property due to the high tide and the release of water from the hydro-electric power plant.
The Committee has ordered localities to prepare rescue teams and stock sufficient supplies in flood prone areas and fortify embankments before hand.
The People's Committees in District 2, 12, Thu Duc, Binh Thanh, Go Vap, Can Gio, Cu Chi, Hoc Mon, Nha Be and Binh Chanh have been asked to speed up the construction work in progress on the dyke systems.