The southern provinces and highland areas in Viet Nam are experiencing a slight cold spell as cold air spreads through the regions at night accompanied by mild fog from around midnight to early morning, according to the Southern Regional Hydro-meteorological Center.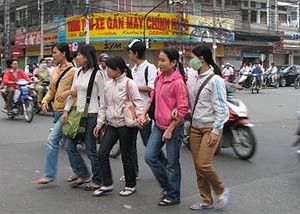 HCMC inhabitants begin wearing coats, jackets and sweaters as the weather becomes cooler

Strong northeastern monsoons, cold southwest winds from the continent, and the impending dry season are the three factors credited for the chill.

A drop of three to four degrees centigrade has already begun in the regions with average temperatures across the southern provinces ranging 27-30 degrees in mornings and afternoons and 18-20 degrees at night.

Meanwhile, temperatures measured in the highland province of Lam Dong and the city of Da Lat have dropped to averages of 13 degrees and 7 degrees, respectively.

Local inhabitants in Ho Chi Minh City and other areas have even begun wearing coats, jackets and sweaters at night.

The cool spell is forecast to linger for the next two to three days.