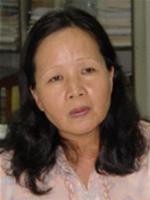 Ms Tran Thi Xuan Lan
The Southern Regional Hydrometeorological Center (SRHMC) forecasts that southern provinces would have unpleasant weather in the coming days. Ms. Tran Thi Xuan Lan, Deputy Chief of SRHMC confirmed that Typhoon Rammasun (Thailand's name) is becoming stronger and stronger off the coast of the Philippines and its influence would hit to southern provinces of Viet Nam .
Over the next several days, the storm will most likely move north and northwest. In addition, there is a depression appearing in the central region and with the combination of these factors, the weather of southern provinces is expected to be bad.
Meteorologists forecast that Typhoon Rammasun would not travel to the East Sea, although it will attract whirlwinds, and combined with the strong, southwest monsoon may cause heavy rains. In the southeast provinces, like Binh Phuoc, Northern Dong Nai, Tay Ninh, and provinces in the Mekong areas of Kien Giang, Ca Mau, Bac Lieu, Soc Trang, Tra Vinh and surrounds, heavy downpour may appear in large areas. In the coming days, Ho Chi Minh City will experience high temperatures of between 31 to 33 degrees Celsius and a low of 23 to 25 Celsius degrees, down 1 to 2 degrees Celsius due to the rain.
It is forecast that in 3 to 4 days, Typhoon Rammasun would move a great distance and have little effect (the southwest monsoon is predicted to reduce also) so the rainfall would decrease around the affected areas. However, presently it is the beginning of the rainy season and the monsoon will increase if some tropical depressions appear out at sea. The southwest monsoon will be the main reasons that cause rains during this period. Recently, there has been no depressions appearing on the images of the cloud map.
Due to the rainy weather, inhabitants are warned of tree collapse during the downpours, in particular fishing vessels are asked to avoid going out to sea at noon because of the strong winds and whirlwinds.