State President Truong Tan Sang toured central coastal Khanh Hoa province on July 11 to examine impacts of water shortages in the locality over the past few months.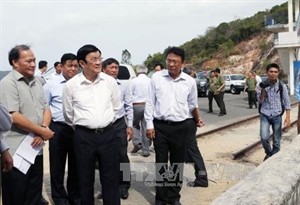 State President Truong Tan Sang surveyed the Cam Ranh reservoir in Cam Lam district, central coastal Khanh Hoa province. (Photo: VNA)
President Sang made a field trip to the Cam Ranh reservoir in Cam Lam district, capable of supplying 22 million cubic metres of water to about 5,000 people in the district and northern Cam Ranh peninsula.
Blistering heat waves have nearly dried up the reservoir, which now only contains 1.5 million cubic metres or 5 percent of its capacity.
According to the provincial Department of Agriculture and Rural Development, many other local reservoirs are suffering the similar situation; some even have water levels below the "dead" threshold.
The State leader urged provincial authorities to properly manage water reserves and undertake various measures to ensure sufficient water supply for daily life and production.
He recommended the province switch to other crops and animals more suitable to the severe condition and call for foreign investment in large reservoir projects to help resolve water shortages in the long-term.
The same day, State President Truong Tan Sang visited Nguyen Ngoc Duc and his family, who successfully shifted from low-yield mango trees to high-yield Australian mango production in Cam Hiep Bac commune, Cam Lam district.
He earned about VND 600 million (US$ 27,520 ) from two hectares of mango trees last season.
Also the day, the State President inspected the construction of the Gac Ma memorial statue in Cam Ranh City.
He hailed the symbolic meaning of the project dedicated to 64 naval soldiers killed in a battle to defend Gac Ma Island in the Truong Sa (Spratly) archipelago 27 years ago.