A tropical low pressure zone strengthened into a storm in the East Sea on July 11 and was forecast to make landfall in northern Vietnam July 12, the national weather bureau said.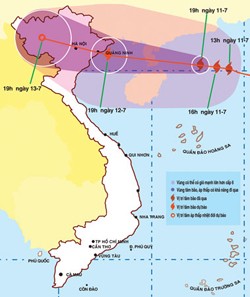 A chart by the national weather bureau shows the direction of Storm Soudeler
Bui Minh Tang, director of the National Hydro-Meteorological Forecast Centre, said the storm was moving fast and was very dangerous.
It is forecasted that the storm will move to the sea off the northern provinces of Quang Ninh and Hai Phong July 12.
Its strongest winds, near the eye, will be at level 8, or around 62-74km per hour.
It will come inland and weaken.
The center of the tropical low pressure zone will move to the northern mountainous region of Vietnam by July 13.
To cope with the storm, Deputy Prime Minister Hoang Trung Hai asked the Ministry of Agriculture and Rural Development and other agencies to warn people of possible landslides and floods.
Cat Ba Island in Hai Phong and Ha Long Bay in Quang Ninh were asked to ensure safety for tourists and bring over 400 boats on the sea back into land.
Provinces from Quang Ninh to Thanh Hoa should prohibit boats going out to sea.