Tropical Storm 'Bebinca' has weakened after moving off the coast of the northeastern region and has brought heavy rainfall across northern and north-central provinces, according to the National Hydro Meteorological Forecasting Center.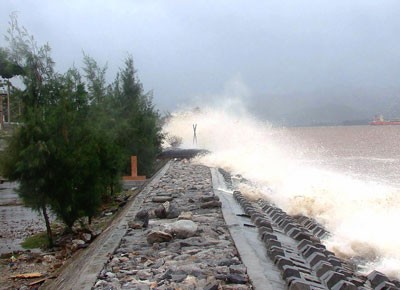 Storm 'Bebinca' caused rough seas along Cat Hai Island District in Hai Phong City on June 23 (Photo: SGGP)
After downgrading into a tropical low pressure system, it moved inland towards the northeastern region and continued to downgrade into a low pressure zone by evening of June 23. Wind gales abated to level 6 blowing below 39 kilometers an hour.
The northern region and central provinces between Thanh Hoa to Quang Tri saw heavy rainfall on June 23. Coastal parts saw rough seas and were lashed with strong winds.
The low pressure zone will head northwestwards at 10 kilometers an hour on June 24 and gradually diminish. Northern and north-central provinces will continue to see medium to heavy rain and thunderstorms, which might trigger flashfloods and landslides.
Related articles:
'Bebinca' expected to make landfall in northeastern region
Tropical storm 'Bebinca' intensifies in East Sea