The National Weather Forecasting Center has stated that this year the summer has been milder than usual owing to the effects of the La Nina factor; though the erratic weather conditions have resulted in sudden storms and floods causing large scale damage across the country.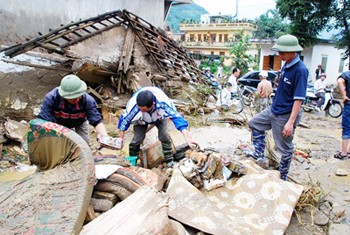 Flash floods devastated homes in Sa Pa District of Lao Cai Province last year (Photo: SGGP)
According to Luu Minh Hai, deputy director of the Weather Center in Lao Cai Province, during the first six months of the year, the weather remained unusually harsh with frequent cold waves.
Particularly in January, a 31-day long cold spell killed thousands of livestock and plunged temperatures below 10 degrees Celsius.
By the middle of March another cold spell brought in unprecedented snowfall in the northern provinces of Lao Cai, Lang Son, Ha Giang and Lai Chau. By April and May, which should have been the summer months, a severe cold front slammed the northern and central regions.
Mercury levels fell to 10 degrees Celsius in Sa Pa town of Lao Cai Province in May while in the same period last year the country had experienced four heat waves with temperatures soaring to 41-42 degrees Celsius, though the cold front had waned in intensity by June.
Meteorologists say that observations of the past years had revealed that a long cold spell was usually followed by floods during the rainy season. Heavy floods had occurred in 1963, 1968, 1971, 1986 and 2008 which were preceded by extreme cold weather conditions. They warn of severe storms and floods this year.
Prime Minister has instructed relevant departments, ministries and localities to prepare for worst case scenarios and make necessary plans.
Hydropower plant managers have been asked to minimize flooding of low lying areas when they release the floodwaters.