Soon after making landfall in the central provinces of Binh Dinh and Phu Yen by late Saturday afternoon, Storm 'Gaemi' downgraded into a low pressure zone, bringing with it torrential rainfall in the southern parts of the central region and highland areas.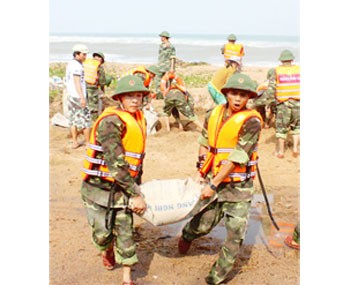 Border armed forces help residents fortify the dyke system to cope with high tide in Tuy An District (Photo: SGGP)
According to the national weather bureau, at 8pm on Saturday, the low pressure zone was located along Binh Dinh, Phu Yen and Gia Lai Provinces. Wind gales abated to level 6 moving at less than 39 kilometers an hour.
The low pressure zone is now moving westwards at 20 kilometers an hour and gradually dispersing and reducing in strength.
Within the next two to three days, the low pressure zone is expected to merge with a cold front to again cause heavy rainfall in the central and central highland regions.
River levels will quickly surge, which might cause flashfloods and landslides in provinces from Quang Binh to Ninh Thuan and the Central Highlands.
Ho Chi Minh City and the southern provinces are currently affected by the storm, experiencing showers and colder temperatures.
On Saturday afternoon, torrential rainfall and strong winds lashed Phu Yen Province where several bridges were inundated under floodwaters, cutting off vehicular traffic.
Cao Duc Phat, Minister of Agriculture and Rural Development, on Saturday examined storm prevention operations in Song Cau Town and instructed the provincial leaders to evacuate residents from riverside landslide prone areas.
The Steering Committee for Flood and Storm Prevention in Binh Dinh Province displaced 152 households from danger areas in Phu Cat District and provided them with food and clothing. Other localities in the province also relocated 12,000 people to safe shelters.
Nguyen Van Dung, chairman of the People's Committee in Quy Nhon City, said that they have purchased ten tons of rice to assist people in coastal and island communes, in an emergency.
Storm 'Gaemi' also forced Vietnam Airlines to cancel 19 flights on October 6.