According to Bui Minh Tang, director of the national weather bureau, storm 'Gaemi' will hit the central provinces of Quang Ngai and Binh Dinh by afternoon of October 6, bringing with it rainfall of 100-200mm.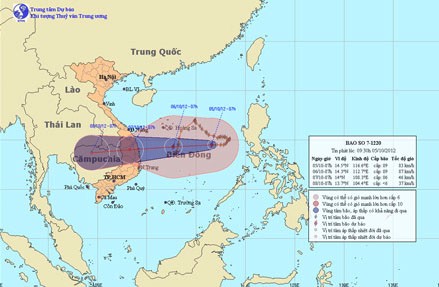 Storm 'Gaemi' expected to make landfall in Quang Ngai, Binh Dinh Provinces by October 6 (Photo: nchmf)
He was speaking at a meeting hosted by the Steering Committee for Flood and Storm Prevention on Thursday to discuss measures to cope with storm 'Gaemi'.
At the meeting, Cao Duc Phat, Minister of Agriculture and Rural Development, proposed to local authorities to direct boats to shelter in safer places and evacuate residents from low lying areas which might be affected by flashfloods and landslides.
The Steering Committee for Flood and Storm Prevention will send officials to examine measures being taken to cope with the storm in Quang Nam and Quang Ngai Provinces on October 5.
Military forces have been notified of more than 48,026 boats on the path of the storm and to prepare sufficient human resources and facilities for rescue operations.
'Gaemi' was positioned 14.5 degrees north latitude and 116.6 degrees east longitude, 800 kilometers east of the coast between Quang Ngai and Phu Yen Provinces at 7am on October 5.
Strongest winds near the eye of the storm reached level 8-9 moving at 62-88 kilometers an hour.
By late afternoon on October 6, the center of the storm will locate 70 kilometers east of Quang Ngai and Binh Dinh Provinces. Wind gales will reach level 10 moving at 89-102 kilometers an hour.
Central provinces from Quang Binh to Khanh Hoa and the northern parts of the Central Highlands will see medium to torrential rainfall from October 6.