Storm 'Jebi' made landfall on Vietnam's northern coastal province of Quang Ninh on August 3, but soon weakened into a tropical depression, bringing with it torrential rainfall in the North of Vietnam.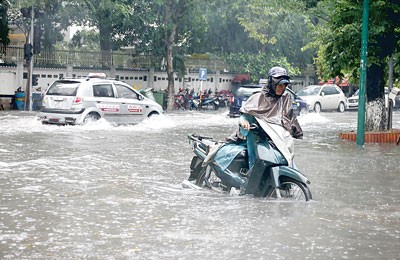 Jebi Storm causes heavy rain in the North Vietnam
In Quang Ninh Province, torrential rain and strong winds uprooted many trees in Mong Cai and Hoang Bo Districts. To ensure safety, the electricity company cut off power and authorities prohibited vehicles to travel over Bai Chay Bridge.
Heavy rains flattened a 42 meter phone antenna, rooftops of 142 houses blew away and one house was totally destroyed. One person in Tien Toi Village is reported to be badly injured.
In Cam Pha, three houses were evacuated and at the border crossing in Mong Cai, all shops closed down due to heavy rains. Around To Gi Market, the storm knocked down trees and many signboards and caused severe landslides along the Ka Long River.
The People's Committee in Hai Xuan Commune has called for contributions from residents and to organize sandbags to prevent further landslides.
Authorities in Do Son District in Hai Phong Province have moved more than 500 households with 1,415 people from vulnerable areas to safer places. Some 758 tourists have also been given temporary shelter in safe locations.
According to weather forecasts, Hong and Thai Binh rivers could flood at any time and people have been alerted for sudden landslides.