Storm 'Kalmaegi' was located at 17 degrees north latitude and 123, 4 degrees east longitude, about 120 kilometers east southeastwards of Philippines's Luzon Island with the strongest wind speeds of level 12-15 in the evening on September 14, reported by the Central Meteorology Hydrology Forecast Center.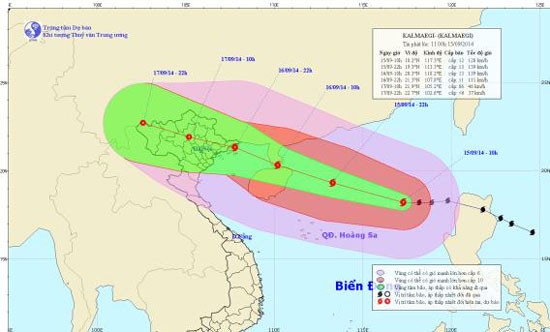 Photo of direction of Storm 'Kalmaegi' on September 15  (Photo: the Central Meteorology Hydrology Forecast Center)
The storm was predicted to move with a fast speed of 20-25 kilometers per hour and entered eastwards of East Sea yesterday.
According to forecast weather, Kalmaegi will be located 640 kilometers of east northeastwards of Paracel Island at 18,9 degrees north latitude and 117,6 degrees east longitude in the evening of September 15 and its sustained wind speeds are from level 13 to 16.
After entering East Sea, the storm is forecast to move fast west northwestwards at 25 kilometers per hour before towarding Hai Nam Island (China) with the strongest wind speeds of level 13-17.
The Central Meteorology Hydrology Forecast Center said that Kalmaegi is a strong storm with the complicated direction after entering East Sea.
Due to influence of storm, eastern territorial water of northern East Sea will see strong wind speeds of level 8-9, and gusts up to level 11-17. Meanwhile, the southern territorial water of East Sea, Spratly Island and coastal provinces from Binh Thuan to Ca Mau will face to high waves of 2, 5 meters, accompany with strong wind at level 5-7.
Currently, due to strong operation of southwest monsoon, Highland Central and southern provinces are shouldered by heavy rains, thunderstorm and strong winds.
To deal with the bad weather, yesterday, the Central Steering Committee for Flood and Storm Prevention sent emergency message to coastal provinces from Quang Ninh to Khanh Hoa and relevant ministries, departments to require fish boats move safe place to avoid the storm.
Particularly, the northern mountain provinces and provinces from Quang Ninh to Ninh Binh have to keep close watch to cope with the storm.