Tropical Storm Ketsana is moving to the East Sea towards Vietnam and will affect provinces from Quang Ninh to Quang Ngai.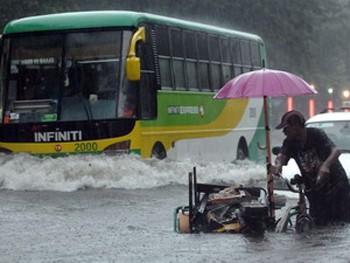 Ketsana causes floods in Manila, Philippines on September 26 (AFP photo)
The National Hydro Meteorological Forecast Center said that the storm has approached the East Sea after making landfall in the Philippines, where dozens of people have been reported dead after a month's rain fell in just 12 hours.
The strongest winds near the storm's eyes, as of late afternoon of September 26, were at Category Eight, 62 to 74 kilometers per hour (kph).
It is forecast that by 4pm on September 27, the storm's center will be 370 kilometers from Hoang Sa (Paracel) Islands, with the strongest winds near its eyes reaching Categories 9 to 10, 75 to 102 kph.
Deputy Prime Minister Hoang Trung Hai on September 26 presided over a meeting of the Central Steering Committee for Flood and Storm Prevention and Control to discuss solutions to cope with the ninth storm.

He asked leaders of provinces from Quang Ninh to Quang Tri to call on fishing boats to seek safe places.
Provincial authorities from Ninh Binh to Quang Ngai should direct and help farmers to harvest any remaining rice and try to protect the dyke system, he added.
At low lying and landslide-prone areas, local authorities should prepare to evacuate people to safe places, he said.
Over 22,000 boats, with 100,000 people, on the sea off provinces from Quang Ninh to Quang Ngai have been directed to safe places. However, border soldiers have not been able to contact 97 boats that are off Hoang Sa.
In related news, five more deaths and missing have been reported in the Central region due to heavy floods.
On September 26, a two year old child in Quang Phuc District, Quang Binh Province, fell into flood water and drowned.
In Ha Tinh Province, about 8,000 households were cut-off by flood water around Vu Quang District due to the rising of the Ngan Truoi and Ngan Sau rivers.
Phan Duc Cung, chairman of Vu Quang District People's Committee, said that the district has prepared to evacuate these households from landslide prone areas.
The floods also swept away a 21 year old man in Ky Anh District while he was wading across Rac River. Local residents have fished his body from the river.
Earlier on September 25, a boat carrying five students to school was sunk killing a 12 grade student in Huong Khe District.
An 80 year old man in the district was also swept away by floods, his body has not yet been found.
In Nghe An Province, Tran Ngoc Thinh, 18, a crew of a fishing boat went missing when the boat was sunk by large waves on September 26. The remaining crews were saved.
The five dead and missing now brings the total number of dead and missing due to the floods to 16.