A tropical depression developed into the country's first tropical storm of the year on July 26, reported the National Hydrology Meteorology Forecast Center.
At 4 pm yesterday, the typhoon was centered at 18, 5 degrees north latitude and 111, 7 degrees east longitude, at 200 kilometers of the northward of Paracel Islands with the strongest wind of level 8- 10.
Past 24 hours, it mainly moved west northwestward at 15- 20 kilometers per hour. By 4pm today, the first storm will be located at 20, 3 degrees north latitude and 108, 0 degrees east longitude in the Gulf of Tonkin.
Because of its influence, the maximum winds of 60- 90 kilometers per hour near the center covered the northern territorial waters of Bach Long Vi, Cat Hai, Co To and Van Don island district this morning. The weather condition is warned to effect at level 3.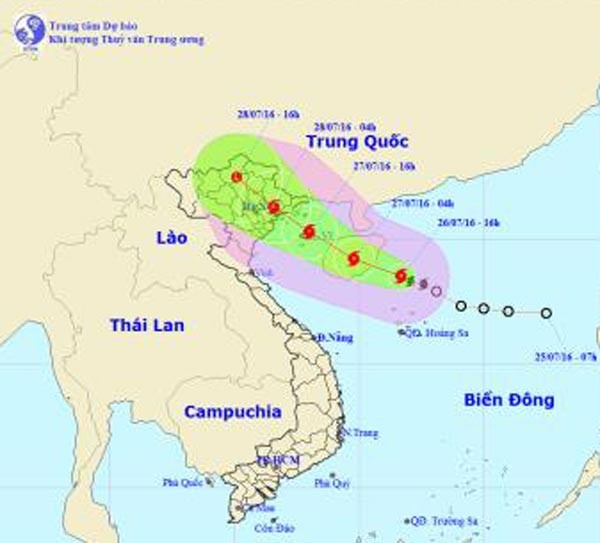 The typhhon mainly moves west northwestward after it has developed into new storm.
By tonight, medium- heavy rains will sweep through the northern provinces and the central province of Thanh Hoa. Thus, local residents need to avoid flash flood and landslide.
In next 24- 48 hours, it is predicted to move northwestward, at 15 kilometers per hour. According to weather forecast, the storm will be at 21, 3 degrees north latitude and 106, 6 degrees east longitude of the east northeastern region. The wind speed in the center is estimated to reach at level 8- 10.
By 4pm tomorrow, storm No.1 will locate at 22, 5 degrees north latitude and 105, 1 degrees east longitude in the mainland of the moutainous northern provinces, with the strongest wind speed of level 6.
Meanwhile, the southern territorial waters from Binh Thuan to Ca Mau and Spratly Islands will also see wind at level 5- 8.