Tropical storm Noul yesterday veered from its predicted path to hit Khanh Hoa and Ninh Thuan Provinces with force 6 – 9 winds, causing some damage, Bui Minh Tang, director of the Hydrometeorology Forecast Center, said.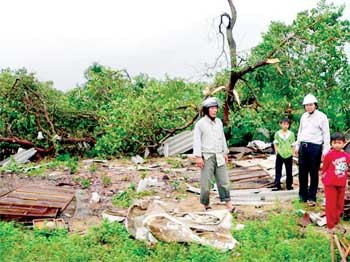 Strong winds blow away the roofs of 40 houses and uprooted many trees in Dong Hoa District, Phu Yen Province
By evening it weakened into a tropical depression and continued to move east before blowing over. Earlier, in the morning, the storm suddenly altered course to move west-northwest to hit the two provinces.       
 
The weather bureau had predicted it to move in an easterly direction and sweep over most of the southern provinces or change course to make landfall on Ca Mau Province.
The center's forecasts about the actual location of the eye and the speed of the storm also turned out to be wrong.   
It is the fifth time this month the center has provided inaccurate storm forecasts.
Agriculture and Rural Development Minister Cao Duc Phat told a meeting yesterday that, therefore, to minimize damages caused by wrong forecasts, even localities that are not predicted to be in the path of a storm must remain on high alert.
 
Damage recorded in many provinces

South central, southern Central Highlands, and southeastern provinces received moderate to heavy rainfall yesterday evening.
In Phu Yen Province, strong winds blew away the roofs of 40 houses and uprooted many trees, injuring one person, and damaged the local power grid.
A major landslide blocked the rail track through the Ca Pass in the province's Dong Hoa District for three hours before being cleared. 
By evening heavy rains and flooding killed four people in Phu Yen.
In Khanh Hoa Province, 71 boats sunk and a 22-year-old man was fatally electrocuted in Cam Ranh town.
Because of the heavy rains, authorities had to discharge water from many reservoirs, including Suoi Dau, Cam Ranh, and Da Ban. As a result, some low-lying areas have been flooded.
Downpours of 80-150 mm have submerged many areas in Ninh Thuan Province and blocked traffic on National Highway 1A. Around 280 schools have been closed.
Similarly, the release of water from Da Nhim reservoir in Lam Dong Province has inundated some areas along the Da Nhim River, such as Ka Do, Lac Xuan, and Lac Lam communes and Dran town.
In Quang Nam Province, Dong Giang and Tay Giang Districts have been cut off following the collapse of many sections of the DT604 route that links them to Da Nang.
In the Mekong Delta, which was forecast to be in the storm's path, thousands of families were evacuated yesterday and schools closed.
Tay Ninh province discharged a large volume of water from Dau Tieng reservoir in preparation for the storm.
This is likely to cause rivers to rise  and submerge many areas, including Districts 12 and Cu Chi in HCM City. 
In HCM City, permanent deputy secretary of the Party Committee, Nguyen Van Dua, and People's Committee Chairman Le Hoang Quan visited Can Gio District yesterday to help local authorities make emergency plans. The city's embankment system has been fortified. 
$4.7 million for affected provinces

Prime Minister Nguyen Tan Dung yesterday decided to allocate VND85 billion (US$4.7 million) from the national preventive fund to provinces affected by the recent floods and storms.

Ha Tinh, Quang Binh, and Quang Tri will each get VND15 billion, and Thua Thien-Hue, Quang Nam, Quang Ngai, and Binh Thuan VND10 billion.

The government will also provide 3,700 tons of rice to victims in these provinces.