Ten people have been electrocuted, drowned, or swept away after tropical storm Noul hit the central region this week, the Dyke Management, Flood and Storm Control Bureau in Da Nang announced.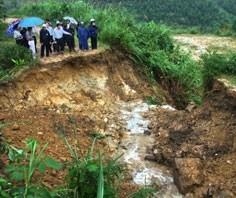 Floodwater damages roads in Quang Ngai Province (Photo: Lao Dong)
The death toll was calculated until the Thursday afternoon.
Two people were killed in Binh Dinh Province, five in Phu Yen, and three in Khanh Hoa.
Eight others were injured, including six in Binh Dinh and two in Phu Yen.
The storm also destroyed or swept away 120 houses, while 1,021 families had to be moved to safer places.
Landslides and damaged roads have stopped traffic in many places, and around 900 hectares of crops and aquaculture farms have been destroyed.
With the rain ceasing yesterday, rivers in the region between Quang Nam and Binh Dinh Provinces receded from warning levels two and three. Authorities have begun relief and rehabilitation work.
Although official figures are not yet available, losses are estimated at hundreds of billions of dong (VND1 billion equal US$59,000).