A tropical depression off the Philippine coastline has moved into the East Sea and intensified into a storm named Sonamu since January 3.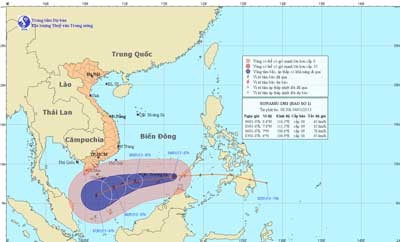 Direction of Storm Sonamu in the East Sea on January 4 (Photo: nchmf)

At 7am on January 4, the storm was located 8.4 degrees north latitude and 116.2 degrees east longitude, about 470km east of the Truong Sa (Spratly) Islands.
Wind gales near the eye of the storm reached level 8 to move at 62 to 74 kilometers an hour.
 
Within the next 24 hours, the storm will move west and southwestwards at 20-25km an hour and might gain in strength.
By 7am tomorrow, January 5, the storm will be located near Huyen Tran Island. The storm fury will strengthen to level 9 moving at 75-88 kilometers an hour.
Storm Sonamu has stirred the southern parts of the East Sea, including Truong Sa Islands, with strong winds. The coastline off provinces from Binh Thuan to Ca Mau is affected by the storm and also strong northeasterly winds, making the sea rough.
Meantime, central and northern regions are continuing to reel under another cold front which has brought more rain to some areas.