Storm Talim, the second storm to hit the East Sea this year, on Tuesday morning was heading towards Hong Kong (China), according to the National Hydro Meteorological Forecasting Center.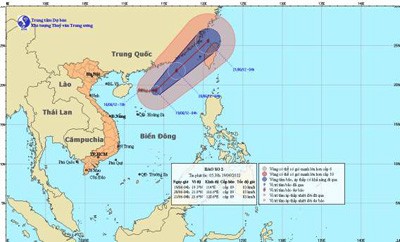 Chart shows direction of Storm Talim on June 18 (Photo: nchmf)
At 7am this morning, Storm Talim was located about 350 kilometers south of Hong Kong. Strongest wind levels near the eye of the storm reached level 9 moving at 75-88 kilometers an hour.
The storm was moving east northeast at 15 kilometers an hour and is expected to center 290 kilometers from Hong Kong.
Le Thanh Hai, deputy director of the National Hydro Meteorological Forecasting Center, said that another Storm Gucho is operating northeast of Luzon Island off the Philippines and moving northeastwards at 10-15 kilometers an hour.
 
The Central Steering Committee for Flood and Storm Prevention on Monday sent a dispatch to the central provinces from Quang Ninh to Phu Yen, asking them to warn and guide all fishing boats to take shelter before the storm unlashes its fury. Local authorities said they have already informed more than 45,100 boats on the current position of the storm.
In related news, Tran Trung Kien, political commissar of the Region 2 Marine Police, on Monday said that they had rescued 12 fishermen adrift on their wrecked fishing boat in an area around Bong Bay Island off the Hoang Sa (Paracel) Islands.
At 1pm on Sunday, the Marine Police was informed that the fishing boat belonging to Tran Ben from the central province of Quang Nam had suffered engine failure and was adrift in the Bong Bay Island area.
The Marine Police immediately dispatched a vessel to rescue the fishermen but it was only able to reach the boat by Monday evening due to a rough sea.
Also in news, Phan Cong Ngon, from the Flood and Storm Prevention Committee in the central highland province of Lam Dong, said that heavy rainfall for the last several days had marooned about 20 households in Da Quyn Commune of Duc Trong Province.
Residents in the commune have had to detour on a route that is ten kilometers furtherer away to go to the district center.
The committee plans to propose to province authorities to build a bridge across the rivulet in the commune, for local residents to commute easily during the flood season.