The National Hydro Meteorological Forecasting Center has said that storm 'Gaemi' on the East Sea is likely to move towards the mid central coast of Vietnam, further threatening the central and southern provinces.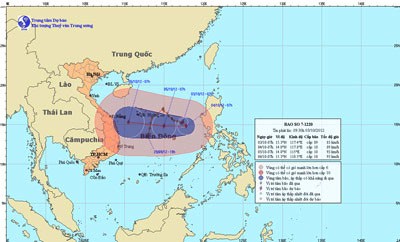 The chart shows direction of storm 'Gaemi' on October 3 (Photo: national weather bureau)
At 7am on October 3, the storm was centered 15.3 degrees north latitude and 117.4 degrees east longitude, 570 kilometers southeast of Hoang Sa (Paracel) Islands.
Strongest winds at the center of the storm were of level 9 at speeds of 75-88 kilometers an hour.
In the next 24 hours, the storm is expected to move southward at five kilometers an hour and further strengthen. It will continue to change course westwards towards the mid central coast, at 5-10 kilometers an hour.
Waters east of the Hoang Sa Islands have been very rough due to the storm.
In related news, a two hour long heavy rainfall in Lac Duong District and Da Lat City in the central highland province of Lam Dong on October 2, caused one death, flooded 80 hectares of vegetables and flowers and swept away an entire chicken farm with 7,000 birds.