After entering the East Sea on December 27, Storm Wukong has weakened into a tropical depression, according to the National Hydro Meteorological Forecasting Center.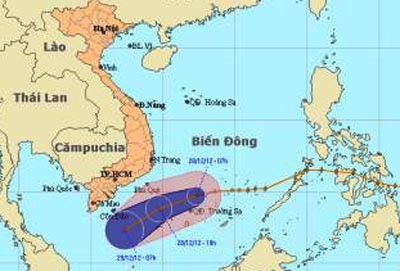 Storm Wukong has weakened into a tropical low pressure system on the East Sea (Photo: nchmf)
At 7am on December 28, the tropical depression was located 9.7 degrees north latitude and 112.3 degrees east longitude, 130 kilometers north northeast of Truong Sa (Spratly) Islands.
Wind gales near the center of the system reached level 6 to move at 39-49 kilometers an hour.
Within the next 24 hours, the tropical depression might move southwest at 25km an hour and further downgrade into a low pressure zone. Wind gales will abate to level 6 moving at 39 kilometers an hour.
Affected by the tropical depression, waters around Truong Sa Islands will be choppy and strong winds will prevail in the area. Provinces from Binh Thuan to Ca Mau will also see rough seas due to northeasterly winds.
In related news, three fishing boats from Tuy Hoa City in the central province of Phu Yen saved five Philipinos in the vicinity of Truong Sa Islands.
At 3am on December 26, the fishermen came across the Philipino men adrift on their boats on the high sea, battling high waves and strong winds.
The boats belonging to Tran Kim Hoa and Pham Hung saved two people each and Pham Xu hauled one person on his boat.
At present the Philipino men are well and will be returning to the mainland with the Vietnamese fishermen after their fishing trip.