Storm 'Wutip' is now moving towards Central Vietnam, according to the National Hydro Meteorological Forecasting Center warning issued on September 29.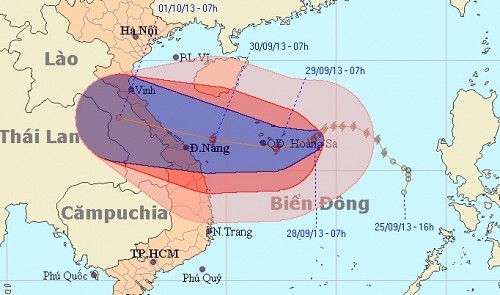 The expected path of Storm Wutip
On the night of September 28, the tropical storm was centered at 16.7 degrees latitude north, 113.9 degrees longitude east, about 170 km east of the Hoang Sa Archipelago and packing maximum winds upto 133 kph.

Weather  forecasters said that today the storm will be located at 16.4 degrees latitude north, 111.9 degrees longitude east, on the southern Hoang Sa Islands, packing winds of 118-149 kph.

In the next 24 hours,  the storm may change direction again to move between west and west-northwest at speed of 10-15 kph and likely to hit the coastal region from Ha Tinh to Quang Ngai Provinces.

Due to the storm, Quang Tri to Quang Ngai Provinces will experience rough seas and strong winds of upto level  10-11. Central Provinces from Nghe An to Quang Nam will have strong winds with gusts upto level 13-14.

North Central Region will have heavy showers on the night of September 29. Coastal districts from Nghe An to Thua Thien-Hue will experience high tide.

The Central  Steering Committee for Flood and Storm Prevention and Control on September 28 sent an urgent dispatch to local governments in Thanh Hoa, Nghe An and Ha Tinh Provinces asking them to prepare storm prevention and urging farmers to harvest rice crops, in case there is continuous rain the next few days.

The National Steering Committee for Flood and Storm Prevention and Control also asked its counterparts in the highland provinces of Dak Lak and Dak Nong to keep an eye on complicated development of the storm and also flooding, as river water level in Srepok is rising quickly.