A tropical depression off the coast of Central provinces has sat in the area for the past five days. Meteorologists had earlier said that it would soon weaken. However, it is currently off the coast of Quang Ngai and Binh Dinh provinces causing heavy rain.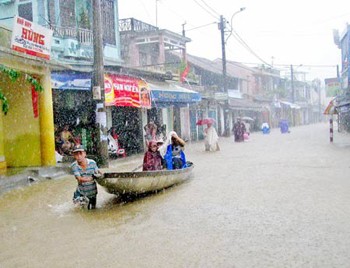 Many streets in the central city of Da Nang are submerged under water after heavy rains due to a tropical low-pressure zone (Photo: SGGP)
Le Thanh Hai, director of the National Hydro Meteorological Forecast Center, said that this is a "strange tropical low pressure." Sometimes it strengthens to Level Six but sometimes it falls to Level Five as a low-pressure zone.
It also has an unclear form; clouds are wide dispersed instead of being built up at the center, as such meteorologists can follow it on satellite during the day but not at night, Mr Hai added.
Mr Hai said that the tropical low-pressure zone may continue for at least one to two more days.
Two days ago, the center forecasted that it would move out of the South China Sea because it had been attracted by another storm at sea. However, it only moved about 100 kilometers.
It has since returned to the sea near Quang Ngai and Binh Dinh provinces.
Heavy rains also fell in the Central Highlands and southern regions. However, it has been not caused by the tropical low-pressure zone but by southwest winds that became stronger in the south and a storm forming at sea, east of the Philippines.
The storm has moved to the sea off Japan and has a lessening impact on weather in the South.
The Southern and Central Highlands regions will see sunshine in next few days, he said.
According to the Central Steering Committee for Flood and Storm Control, by September 7, the tropical low-pressure zone has caused six deaths, with nine people injured and three people missing in Central and Central Highlands provinces.
It has also caused serious damage to agricultural production, houses and public works.
Quang Tri has seen most damage with 4,000 hectares of rice flooded and Quang Nam with 3,000 hectares damaged.
In the North, flash floods occurred in the mountainous province of Lao Cai and ravaged Sa Pa and Van Ban districts and Lao Cai town.
The provincial highway to the districts of Van Ban and Bao Thang has been jammed. Highway 279 to neighboring province of Lai Chau has also been blocked.
Rivers rise in Central and Central Highlands

Heavy rains September 6 and 7 have caused water level in the rivers in the Central region to rise again after falling to alarm Level One. By September 7, they fluctuated from Level One and Level Two, the Flood and Storm Prevention Center in the central and central highland region said.

From September 7 to 8, rivers in the provinces of Quang Ngai and Binh Thuan have continued to surge and are slowly affecting rivers in provinces from Quang Nam to Quang Binh.

Heavy rains on September 7 flooded Da Nang City, with most of streets in the inner city, like Nguyen Van Linh, Phan Chau Trinh, Hoang Dieu, Dong Da and Nui Thanh, under 0.3 to 0.5 meters of water causing traffic jams.

Nguyen Luong Bang was seriously flooded under one meter of water.

Reporting about the damages caused by heavy rains and floods, the Quang Ngai Province People's Committee said that three houses in the province had collapsed, 75 others lost their roofs, 4,000 hectares of rice and 5,000 hectares of other farm produce were flooded, many roads damaged and some boats sunk.

Total damage has been estimated to be VND31 billion.

Estimated damage in Quang Nam Province is around VND20 billion.

From September 5 to 7, heavy rains also caused floods in the Central Highland provinces of Dac Lac, Gia Lai and Kon Tum, causing damage to farming areas and roads.

Huynh Van Hung, chairman of Phu Quy Island District's People's Committee, Binh Thuan Province, said that from September 6 to 7, the district suffered strong winds and high waves.

Food prices in the district have rocketed as boats could not land nor depart the island for many days. In the next five days, if situation continues, the island will run out of food and fuel.

Mekong Delta

Over the last two days, heavy rains combined with high tide and floodwater from the Mekong River has caused delta waters to rise.

By September 7, water levels in Tien and Hau rivers in An Giang Province were over alarm Level One.

The National Hydro Meteorological Forecast Center said that in the next few days, water levels in in Dong Thap Muoi and Long Xuyen quadrangle will continue to rise in accordance with high tides.