A tropical low pressure system has caused medium- heavy rains and thunderstorms on the large scale in the territorial waters from Da Nang to Binh Thuan, Central Highlands and the southern region, reported the National Hydrology Meteorology Forecast Center on June 27.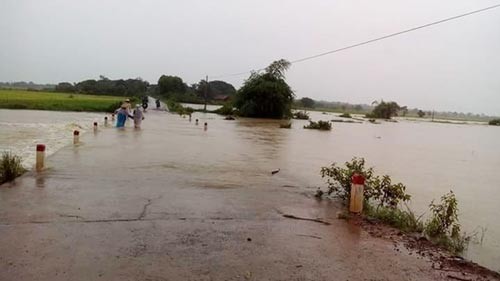 People should be alert for direction of low pressure and flash flood. (Photo:SGGP)

According to weather forecast, local rivers from Quang Nam to Binh Thuan and Central Highlands will suffer flash flood and landslide.

Meanwhile, a new low pressure formed in the central Philippines is entering East Sea. By yesterday evening, it was located at 18, 1 degrees north latitude and 118 degrees east longitude, at 630 kilometers towards east northeast of Paracel Island with its strongest wind of level 6- 8.

Within following day, the tropical depression is going to move west northwestward at 450 kilometers of northeast of Paracel Island.

Because of the influence of the low pressure, the possibility of damaging wind gusts and large hail and sea rough are in the forecast in the northeastern territorial water of East Sea, and the southern territorial waters from Binh Thuan to Ca Mau, Ca Mau to Kien Giang, Gulf of Thailand and Spratly Island are predicted to experience thunderstorm, big waves of 2, 5- 3, 5 meters and wind speed of level 7- 9.

The operation of low pressure and southwest monsoon brought medium- heavy rains on the large scale in both Central Highlands and the southern region.

With the bad weather condition, the National Steering Committee for Natural Disaster Prevention, Search and Rescue has sent emergency messages to local authorities from Quang Ninh to Ca Mau provinces and Central Highlands, asking them to count the number of vessels on sea, announce direction of the tropical depression and move local residents to safer places to avoid landslide and flood tide.