An inter-tropical convergence zone from the west moving through central provinces to the East Sea bringing poor weather and thunderstorms, the National Hydro Meteorological Forecast Center said.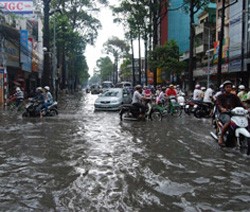 A street in HCMC after heavy rains in August (Photo: Lao Dong)
The weather has been created by a storm forming in the northwest of the Pacific, it said.
Accordingly, southwest winds have become stronger causing heavy rains in southern, south-central and Central Highland provinces.
The weather conditions are forecast to continue over the next three to four days.
The center also said that a low tropical pressure zone may form west of the Philippines on September 3 and 4, which will affect some coastal regions.
Meanwhile, meteorologists said that the recent occurrence of the El Nino phenomenon has affected weather globally, including Vietnam.
Air temperatures around the world will become hotter, with a warmer fall and winter expected, they said.
It is usual for this period of the year that Vietnam experiences heavy rains though some places have suffered drought for some months now.
Average temperatures in some places have risen to 33 to 34 degrees Celsius, in cases they have surged to 35 to 37 degrees.