Temperatures dropped to minus zero degrees Celsius over Mau Son Mountain in the northeastern province of Lang Son on Thursday, with snow and ice covering the top of the mountain.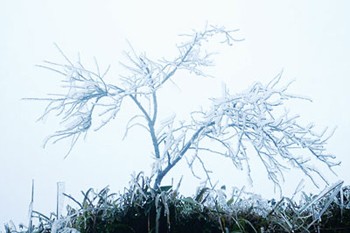 Ice and snow covers Mau Son Mountain in Lang Son Province (Photo: SGGP)
According to Ha Van Tien, director of the provincial hydro meteorological centre, temperatures dropped to between minus 0.2 to 0.6 degrees early morning, across the mountain top.
 
Minus temperatures brought in snow and ice in parts of Loc Binh and Cao Loc Districts of the province.
Tens of households in Khuoi Tang Village at the top of Mau Son Mountain have stayed indoors, not even venturing out to harvest their corn crops for the last two days.
Some buffaloes froze to death in Mau Son and Cao Son Communes of Loc Binh District.
Mercury fell to 3-5 degrees in Sa Pa District of Lao Cai Province as well as in other provinces like Lai Chau, Yen Bai and Son La. It dipped to 0 degree in O Quy Ho mountain pass of Lao Cai Province.
Fearing more of their cattle may die of the chilling cold; hundreds of families in Sa Pa District have driven their herds into rented tents near Lao Cai City to keep them warm till the cold wave passes. They are burning small bonfires within the tent camps to protect their cattle from the bitter cold.
The severe cold wave has also spread to Hanoi, provinces in the Red River Delta and the northern central regions for the last two days.
Temperatures in Hanoi plunged 8-10 degrees, the lowest this winter. Several nursery and primary schools have shut and parents stayed at home to take care of their children suffering from weather related ailments.
Ice and snow will continue to fall from now until Tet, as more intensive cold fronts are forecast to slam into northern Vietnam.