The National Meteorological Hydrology Forecast Centre reported that the super storm Rammasun with a complicated direction change will make landfall in Vietnam in the upcoming days.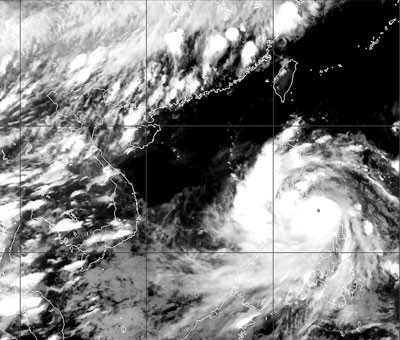 Satellite photo of direction of Storm ' Rammasun' (Photo: The National Meteorological Hydrology Forecast Centre)
At 1am on July 15, the storm was centered 650 kilometers of east southeastwards of Luzon Island (Philippines) with the strongest wind near center of the storm at level 11-12, and gusted up to 14-15.
By 1 am on Wednesday, the storm was located at 13, 7 degrees north latitude and 122, 8 degrees east longitude on the territorial water of Philippines. The storm sustained wind speeds of level 11-15.
Because of influence of the storm, the eastern territorial waters of East Sea saw stronger winds above 7-10 near center, and gusted up to level 11-12.
The Vietnam's territorial waters from Binh Thuan to Ca Mau, from Ca Mau to Kien Giang, including Spratly islands have experienced showery weather accompanied with thunderstorm, northwestern monsoon.
The Central Steering Committee for Flood and Storm Prevention and the National Committee for Search and Rescue sent a message to local authorities and relevant ministries from Quang Binh to Ba Ria- Vung Tau provinces to give instructions to deal with Super Storm Rammasun.
According to the weather forecast agency, northern mountain provinces will be shouldered showery weather due to influence of the storm on Thursday. Northern provinces will experience heavy rains on the large scale after the storm Rammasun makes landfall on July 20. The heavy rains are expected to last within three days with the rainfall of 200-300 mm.