The national weather bureau forecasts super typhoon Nalgae as the most powerful storm to hit the East Sea this year and now expected to move towards northern central Vietnam in a couple of days.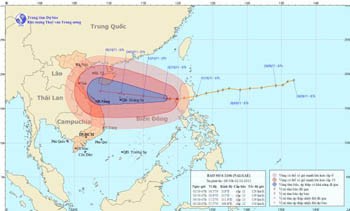 Super typhoon Nelgae forecast to head towards northern central Vietnam (Photo: national weather bureau)
According to the National Hydro Meteorological Forecasting Center, at 10am on October 2, the typhoon was located 16.5 degrees north latitude and 117.6 degrees east longitude, about 580 kilometers east of Hoang Sa (Paracel) Islands. Wind gales near the storm's eye packed level 12 blowing at 118-133 kilometers an hour.
 
The storm is expected to move west northwestward at 10-15 kilometers an hour to lie 250 kilometers east of the Hoang Sa Islands by 10am on October 3. Wind speeds will reach level 12-13 to move at 118-149 kilometers an hour.
Nalgae storm has stirred wind speeds in northern parts of the East Sea up to 89-117 kilometers an hour.
In addition, a cold front is moving southward and forecast to affect northern Vietnam by the night of October 2. It has also resulted in northeasterly winds of level 6 moving at 39-49 kilometers an hour in the Gulf of Tonkin.
 
Workers clearing landslide debris on Highway 18 after Nesat typhoon hit Quang Ninh Province (Photo: SGGP)
According to the Central Steering Committee for Flood and Storm Prevention, Nesat typhoon has blown roofs off 293 homes, sunk 11 boats while 33 small boats and rafts are lying wrecked in Quang Ninh Province.
It also caused vast flooding and inundated over 11,600 hectares of rice crops in Hai Phong and Quang Ninh.
Nesat had made landfall in northern Vietnam in Hai Phong City and Quang Ninh Province on the afternoon of September 30.