Over the last several days, sweltering weather conditions across the Northern and Central Regions have driven temperatures up to 39-40 degrees Celsius and in some places even to 41 degrees.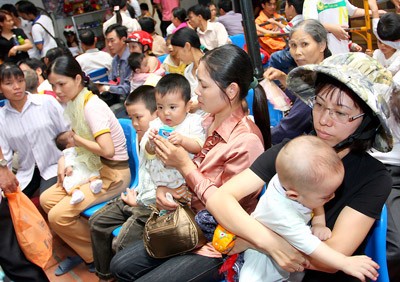 Parents take their children for health checks at the Central Children Hospital in Hanoi (Photo: SGGP)
Local residents are flocking to beaches, parks and supermarkets to escape the scorching heat, particularly in Da Nang and Hue Cities.
An average of 30,000 people have been crowding beaches in Da Nang City every day. The Ba Na Hills tourist resort recorded twice as many visitors as that in the same period last year. Hotels in the area are presently fully booked.
The scorching heat has driven people to beaches and Huong Riverside areas in Hue City and in Huong Tra and Huong Thuy towns in Thua Thien-Hue Province.
Quy Chau and Quy Hop Districts in Nghe An Province are seeing 42 degrees temperature for the first time this year, since Wednesday afternoon. In Nghia Dan District and Thai Hoa town, temperatures reached 40 degrees Celsius.
This hot and dry weather has caused some forest fires and made several other areas equally vulnerable to more fires.
A forest fire began at the Hai Van mountain pass in Lien Chieu District in Da Nang City at 2.30pm on Wednesday. Firefighters were still struggling to stamp out the fire by 5pm of the same day.
Three other forest fires also occurred in Nghi Loc District in Nghe An Province, Bac Quang District of Ha Giang Province and Son Tinh District in Quang Ngai Province over the last three days. Fortunately they have now been brought under control.
The hot weather has increased the number of sick patients in hospitals in the central and northern regions.
Most provincial and district hospitals in Thua Thien-Hue Province are now jam-packed with patients, whose numbers have risen by 40-50 per cent above average over the last few weeks.
Children Hospital in Nghe An Province received over 1,000 children coming in for health checks and treatment from April 28 to May 2. Of these, 15 children were infected with hand-foot-mouth disease. The hospital has tasked more doctors to work extra hours in the evenings.
Overload conditions also occurred in the General Hospital and the Obstetric-Pediatrics Hospital in Da Nang City.
In Hanoi, the Central Children Hospital has been seeing over 1,100 sick children a day. The numbers reached 2,000 on Wednesday alone. Pediatric Wards of Bach Mai and Saint Paul Hospitals have recorded twice as many sick children than on an average normal day.
Drought conditions have worsened salt penetration in rivers in Da Nang City and Quang Nam Province. Huynh Van Thang, deputy director of the Department for Agriculture and Rural Development in Da Nang City says that summer-autumn rice crop may face a possible shortage of water for irrigation.
Scorching weather to linger another day

The current hot spell will linger in the northern region till May 4, said Le Thanh Hai, deputy director of the National Hydro Meteorological Forecasting Centre.

Temperatures will swing from 37-39 degrees Celsius and even 40 degrees in some mountainous regions.

By May 5 or 6, a cold front will move in to ease the hot weather in the northern region, while the central region will continue to remain hot.

Southwesterly winds have begun to operate in the central highland and southern regions. As a result, these areas, including Ho Chi Minh City, will remain hot in daytime but see rainfall in the afternoons and night time.