Temperatures plummeted to 1 degree Celsius in Sa Pa District in the northern province of Lao Cai after a severe cold front swept the northern region on Sunday, as recorded by the provincial Hydro Metrological Centre.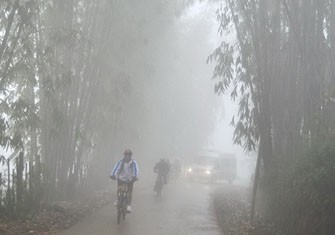 Sa Pa District is currently facing extreme cold and thick fog (Photo: Tuoi Tre)
Luu Minh Hai, director of the centre said that mercury levels fell by 2-3 degrees to 7 degrees in Bac Ha and Muong Khuong Districts and recorded 12 degrees in Lao Cai town.
Meanwhile, the national weather bureau said that a bitter cold wave blanketed the entire northern region spreading to provinces in the southern central region as well.
Thick fog and occasional showers in the northern mountainous provinces as well as frost conditions will continue to prevail in the plains for the next one to two days.
The tropical low pressure system in the southern East Sea is slowly moving west and southwestwards. By 7am this morning, it was centered 190 kilometers east northeast of the Truong Sa (Spratly) Islands, with strong winds of level 6 blowing 39-49 kilometers an hour. The direction of the low pressure system and wind gales will remain unchanged for the next 24 hours.
The system has affected weather conditions in the East Sea, which has turned rough, causing nine fishing boats from Khanh Hoa Province and 15 boats from Binh Dinh Province to send distress   signals on Sunday.
Border army forces directed the boats from Khanh Hoa with 79 fishermen on board to shelter temporarily in Nam Yet Island of Truong Sa Islands.
Border patrol and the Ministry of Foreign Affairs sought permission from Malaysian authorities to allow the 15 boats from Binh Dinh to take shelter in islands under Malaysian sovereignty.
In related news, continuous heavy rainfall has inundated several fields and residential areas in the central province of Phu Yen. Flood levels reached level 2 and seemed to surge higher.
Over 300 households are completely isolated in Dong Hoa District. Earlier, torrential rain and a tornado had destroyed several properties and crops in Hoa Xuan Dong Commune.