The heavy rainfall during previous days caused water level in Ha Thanh and Kon River, Dinh Binh reservoir up to 8.9 meters.

The report of the People's Committee of Hoai Nhon district showed that water level on local rivers was alerted at level 3, threatening lives and property of local people in wards of Hoai Hai, Hoai My, Hoai Xuan, Hoai Huong, Tam Quan Bac and Hoai Phu.

Ten construction units and irrigation projects of Hoai Nhon district were effected by landslide and swept away by flood water.

By November 6, around 800 houses in the district were sunk under water; 272 houses in Hoai Chau, Tam Quan Nam, Tam Quan, Tam Quan Bac, Hoai Chau Bac, Hoai Thanh Tay and Hoai Duc must move to safer places to avoid flash flood.

Chairman of the People's Committee of Hoai Hai commune Mr. Huynh Co said that around 300 houses were sunk under 0.5- 1 meters.
In order to ensure people's health, the local authority provided 300 noodle boxes, 1,000 bottles of fresh water and drugs to the isolated households.

Around 1,045 households in An Nghia, An Toan, An Dung and An Vinh commune of An Lao district were also isolated by sudden flood increase; and more than 10 ton of rice were destroyed completely.

The natural disaster caused interrupted traffic, rural bridges were swallowed by flood water.

Amid to the complicated weather situation, the Binh Dinh provincial Military Command yesterday sent nearly 200 soldiers, two canoes and vehicles to Phuoc Quang commune to help local people moving out of the dangerous zones.
Some photos were posed in the flood- hit- localities sent by Saigon Giai Phong Newspaper's reporter: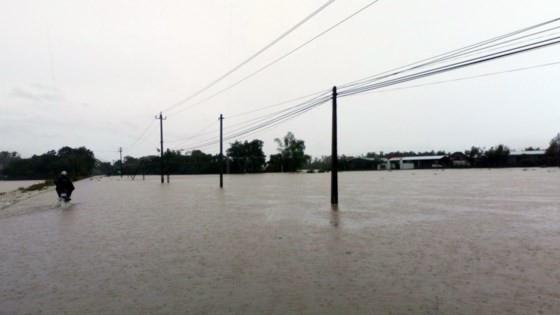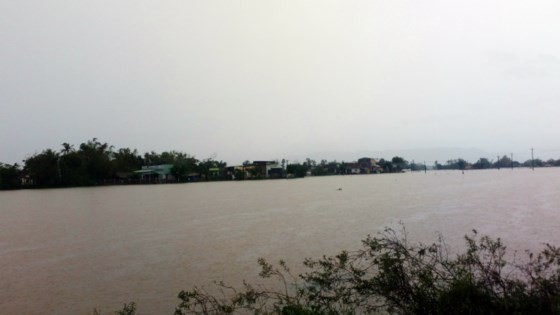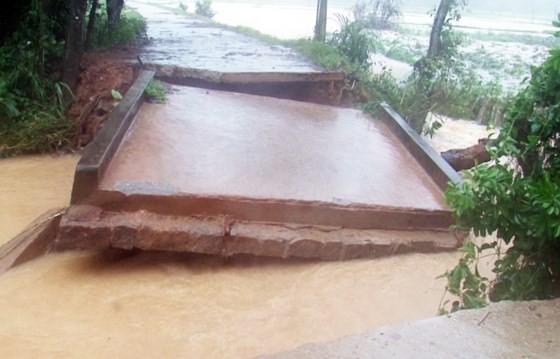 Tags: