Tens of local fishermen living in communes of Hai Trach, Duc Trach and Nhan Trach were rescued by border police and soldiers when sudden cyclone and thunderstorm sunk their vessels under sea water at 5 am on Friday, announced deputy chairman of the People's Committee of Bo Trach district of Quang Binh province Nguyen Ngoc Tuan yesterday.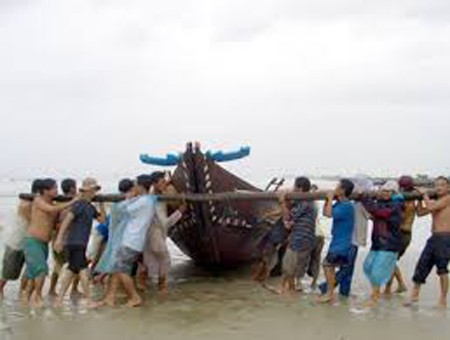 The rescue forces towed the fishermen's boats ashore. (Photo:SGGP)
After receiving information, the rescue forces immediately towed the fishermen's boats ashore from dangerous location.
Around 30 boats was operating in dangerously turbulent waters near cyclone, three of which were sunk near ashore.
On the same day, vessel of fisherman Nguyen Phong Van suddenly was blown by cyclone and strong wind while he was catching fish in the territorial water of Ha Tinh province. Unlucky, he passed away after moving to hospital.