Thick fog over Noi Bai International Airport delayed tens of flights on Monday morning, said an airport representative.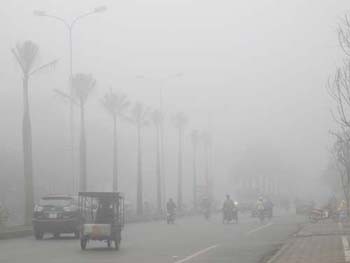 Thick fog covered Hanoi City on Monday morning (Photo: Thanh Nien)
Vietnam Airlines alone had to delay 12 flights about 2-3 hours behind schedule. Similarly, tens of flights of VietJet, Jetstar Pacific and Air Mekong were unable to take off on time.
 
Foggy conditions lasted until 10am after which flights could take off, most already a few hours behind departure time.
Dense fog also covered several areas of Hanoi City. Drivers found visibility reduced to about 20 metres on some road like Thang Long Highway and Pham Hung Street.