At present, the northern and central provinces have experienced 39- 40 degree Celsius hot weather, reported the Central Hydrology Meteorology Forecast Center yesterday.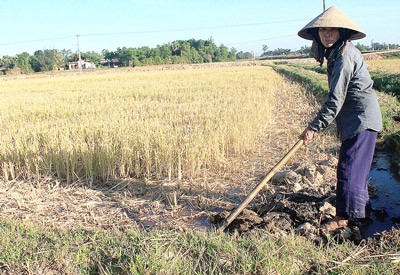 Hot weather affects cultivators' planting. (Photo: SGGP)
By July 2, additional heat wave with the highest temperature of 40- 41 degrees Celsius is predicted to threaten to the areas.

During this month, heat waves affected directly to agricultural production in the northern and central regions.

Sellers at the biggest wholesale markets in Hanoi said that prices of many kinds of vegetables and seafood have increased around 10- 15 percents because of hot weather.

Cultivators at Tu Liem district's Dai Mo commune said that framers had to get up early at 2- 3 am everyday to irrigate to vegetable and flower crops.

Hot weather returned in the west- northern provinces in past two days. Two mountain provinces of Lao Cai and Lai Chau are suffering 39, 2 degrees Celsius temperature, said Director of the National Hydrology Meteorology Forecast Center of Lao Cai province Luu Minh Hai.

Statistics from Department of Agriculture and Rural Development of Lao Cai province showed that around 15 forest fires have occurred in the province due to hot weather.

Currently, hundreds of local water reservoirs have felt into serious water shortage that affected directly to summer- autumn rice production in central provinces.

Drought and water shortage have threatened 5, 000 hectares of summer- autumn rice crops and 2, 000 hectares of maize fields in Nghe An, 1, 070 hectares of rice crops in Quang Tri, 8, 950 hectares in Binh Thuan, 8, 500 hectares, 11, 839 hectares in Khanh Hoa and 10, 229 hectares in Ninh Thuan.
According to the latest news from the National Hydrology Meteorology Forecast Center, the highest temperature in the northern region will reach at 39- 40 degrees Celsius on July 1- 3.

In central region, the temperature is predicted to be at 39- 41 degrees Celsius on July 4.

Meanwhile, hot weather situation will experience in the southern and Central Highlands region next ten days.

Because of the influence of southwest monsoon from southward, territorial waters from Binh Thuan to Ca Mau province and Spratly Island will see strong wind of level 5- 7.

On July 1- 2, showery weather and thunderstorm will shoulder over Ho Chi Minh City. The highest temperature in the area will reach at 33- 35 degrees Celsius.