Thousands of boats were still out in the East Sea on Monday even as a tropical low pressure system the last few days is creating very rough and choppy conditions.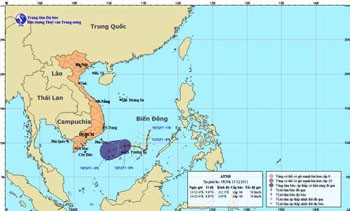 Position of the tropical low pressure system on the East Sea on December 12 (Photo: national weather bureau)
Most of the boats are from the central provinces. Binh Dinh Province alone has 7,779 boats out at sea with about 43,000 fishermen on board. The provincial border army has proposed to the Ministry of Foreign Affairs to ask neighboring countries in the region to allow boats to shelter at the nearest coast.
Besides, 768 boats from Quang Ngai Province, 166 from Khanh Hoa and 365 from Phu Yen are also battling dangerous waters.
Tran Nghe from Quang Ngai Province moved his fishing boat with 10 people on board on Monday to the Philippines to avoid the fury of the tropical depression after experiencing threatening unruly waves.
At 7am on Tuesday, the tropical depression was positioned 9.5 degrees north latitude and 112.3 degrees east longitude, north of the Truong Sa (Spratly) Islands with winds gales of level 6-7 moving at 39-61 kilometers an hour.
The depression will move west southwestwards at 10 kilometers an hour to the west of the Islands, to position at 8.8 degrees north latitude and 110.0 degrees east longitude by 7am on Wednesday with wind gales remaining unchanged.