Three persons were swept away and one struck by lightning after torrential rainfall lashed the northern mountainous region in the last three days.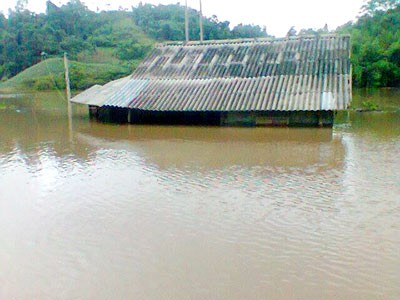 Floods inundate houses in Son La Province (Photo: SGGP)
The National Committee for Search and Rescue in Son La Province said heavy rains swept away Vang A Vang, 40, in Dong Sang Commune in Mai Son District. Khoang Van Binh in Dien Bien Province and Vu Manh Thang in Lao Cai were also swept away and Thao A Phe in Dien Bien was hospitalized after being struck by lightning.
 
About nine houses and 272 hectares of rice and vegetable crops were inundated. 136 cattle have been swept away by floodwaters and torrential downpours have closed sections of Highway 6, 37, 43 as well as other main roads, and ground traffic to a halt.
Torrential rains have also caused Nam La stream in Son La to rise, threatening lives of hundreds of people.
Falling soil and rock debris closed a section of Highway 279 in Van Ban District of Lao Cai Province.
In Bak Kan Province, unrelenting rains rolled big rocks down the mountain, threatening lives of people living on the foothills. The local government has evacuated seven households to safer shelters and is alert to more landslides in the area.
Quang Ninh Province has evacuated 12 households from danger zones and in Hai Phong Province a big rock fell over and destroyed two houses--luckily no human lives were lost.
Torrential rains have caused rivers to swell to danger levels. Thao River was up at 31.5 meters on July 30, exceeding the third-stage warning level by 0.5 meters.
According to the Central Steering Committee for Flood and Storm Prevention and Control, a tropical depression is entering the East Sea, and is presently centered at 16.8 degrees latitude north, 117.8 degrees longitude east and 590 km east of the Hoang Sa (Paracel) archipelago.