Tornado with strong winds, heavy rains and high ocean tides caused much of damage for people in the southern end province of Ca Mau August 14.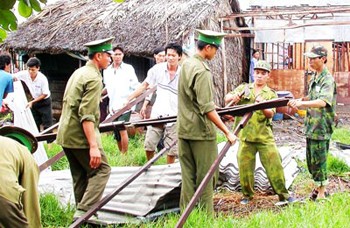 Army forces help residents repair and rebuild houses after a tornado lashes Ngoc Hien and Tran Van Thoi districts, Ca Mau Province August 14 (Photo: SGGP)
According to the province Department of Agriculture and Rural Development, the tornado destroyed 23 homes and blew 46 others' roofs away while another was trucked by lightning in two coastal districts of Ngoc Hien and Tran Van Thoi.
Meanwhile, giant waves sank Nguyen Van Xe's fishing boat together with seven fishermen into the sea, destinies of these unlucky men have yet known. Elsewhere the border army forces saved 13 other fishermen who fell into the sea during the fierce tornado.
High ocean tides severely engulfed and sent parts of 1,500 meters of the sea dyke tumble in the westward Ca Mau Province.
The same day afternoon, a two-hour downpour inundated streets under 0.2-0.5 meters of floodwaters, causing the worst traffic jam in many years for Cach Mang Thang Tam Street in Can Tho City.
Thousands of motorcycles lined up along one kilometer of the street. The downgraded drainage system together with narrow alleys along the street's sides has been blamed for worsening the flooding.
In the Central Highlands, a tornado raged through Xuan Tho Commune in Da Lat City August 13, leaving about one billion dong in loss.
The one hour tornado, which swept through the commune's Xuan Thanh Village, uprooted over 500 pines and crushed a truck.
It also crumpled 700 square meters of glasshouses and ravaged much of farming area. Local residents reported that was the worst ever tornado in the area.