Ho Chi Minh City experienced 83 medium and heavy rains in the first nine months of the year, decreasing 13, 5 percent compared to the same period last year, reported the Ho Chi Minh City Department of Transport.
 
However, the total average heavy precipitation in the area reached 792, 85mm which increased 9 percent in comparison to the same period in 2014.
 
Prolonged heavy rains swept through Ho Chi Minh City on the large scale on September 15.  The highest rainfall reached  92mm at Ly Thuong Kiet station, and 142 mm at An Lac station that inundated many city's districts under 0, 1- 0, 15 meters of water such as Binh Thanh, Tan Binh, and district 2, 6, 8, 12.
 
Floods blocked many routes, causing prolonged traffic congestions in city.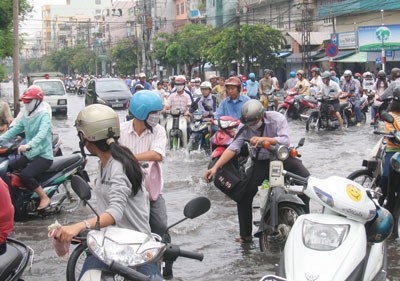 Flood causes traffic congestions in many routes. (Photo:SGGP)