The tropical low pressure system on the southern seas has brought in heavy rainfall and thunderstorms in the southern region, the central highlands and the central region between Da Nang City and Binh Thuan Province, according to the National Hydro Meteorological Forecasting Center.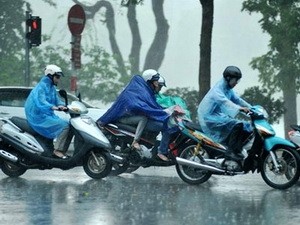 The southern region is seeing heavy rainfall with the tropical depression (Internet Photo)
At 7am on November 15, the system was centered 110 kilometers east southeast of the coastline along Ba Ria-Vung Tau to Ca Mau Provinces. Wind gales measured at level 6 moving at 39-49 kilometers an hour.
Within the next 24 hours, the system will move west and northwestwards at 10km an hour and weaken into a low pressure zone.  By 7am November 16, it will be located in the Mekong Delta with winds gales dropping to below 39 kilometers an hour.
According to the hydro meteorological stations in the coastal provinces, high tide levels this year have been the highest in the last 15 years in the southern region. Tide waters will surge 2.3-2.7 meters to directly affect Nam Can, Ngoc Hien, Tran Van Thoi and U Minh Districts in Ca Mau Province.
Meanwhile, the high tide will maintain present peak levels for the next one to two days in Ho Chi Minh City before gradually receding. The Southern Regional Hydro Meteorological Center said that the tide will reach its peak of 1.6 meters today, November 15.
The northern region is expecting another cold front by November 16, which will be more widespread in the northern and central regions by the next day. Strong winds will lash through the Gulf of Tonkin.